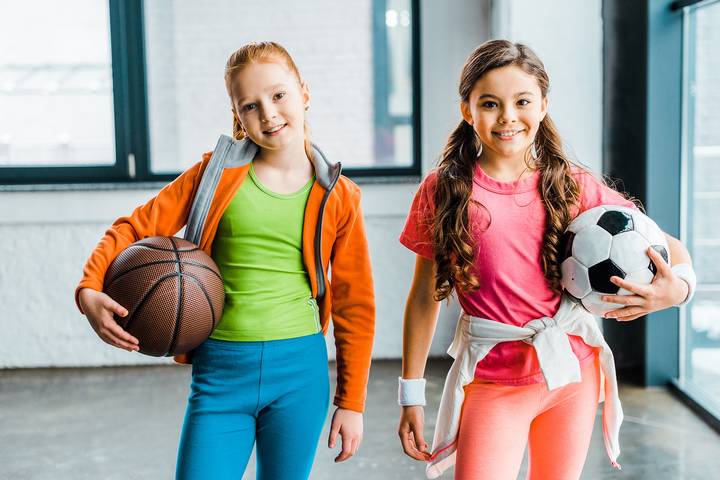 Best Sports for Girls – 8 Most Popular Women's Sports
Girls can enjoy various types of sports, from swimming to football. Playing sports helps train your body, meet friends, and develop healthy self-esteem. In the past, certain sporting activities were wrongly reserved for boys only. Thankfully, times have changed. There's a wide range of the best sports for girls to enjoy equally.
Girls who play sports stand to reap many physical and psychological benefits as adults. It is important to enrol children in sports as a form of exercise. Many parents are looking to enrol their daughters or female wards in sporting activities. If so, you may want to consider your child's interests and type of gear before doing so.
From soccer to gymnastics, there are many exciting sports for female athletes to enjoy. Here is a list of the best sports for girls.
List of Most Popular Women's Sports
Basketball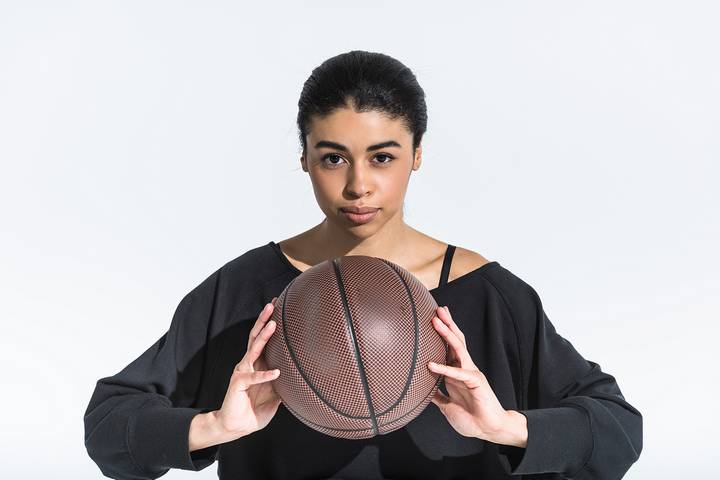 | | |
| --- | --- |
| Sport | Basketball |
| Description | Best sport for upper body strength |
| Female athlete | Tamika Catchings |
Basketball is one of the best sports for girls who enjoy running and high-energy activities. The game involves two teams of five dribbling to shooting the ball in a hoop on the opposite side. On top of this, it's also one of the more recognized names in the United States. Elite basketball players can play in the WNBA (Women's National Basketball Association), turning their hobby into one of the best paying jobs for women.
Basketball is one of the games that are great for developing upper body strength. The sport also encourages team-building skills since it requires teamwork and coordination. When it comes to the gear, this game only requires a ball, strong sports shoes, and a hoop. You don't have to worry too much about the cost to enjoy playing basketball.
Basketball Pros
Develop upper body strength

Improve hand-eye coordination

Build self-esteem
Basketball Cons
Risk of injuries

High-pressure competition
Swimming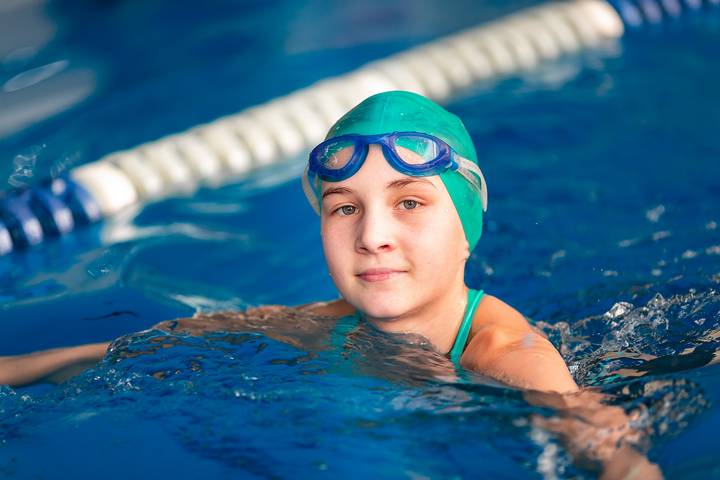 | | |
| --- | --- |
| Sport | Swimming |
| Description | Best sport for agility |
| Female athlete | Penny Oleksiak |
Swimming is a great physical sport for girls. It's versatile and can be enjoyed as an individual or team sport. As an individual sport, there's an opportunity for girls to develop a lifetime hobby. It's also versatile and can require intense training to master all the different techniques.
This sport is ideal for girls who don't enjoy physically exerting sports like soccer or volleyball that involve running. The required gear is also simple: swimming trunks, goggles, and a swim cap. Best of all, swimming is useful outside sports. If you visit the beach for a family travel destination, you will be delighted your child is an avid swimmer in the sea.
Swimming Pros
Health benefits for the body

Great for fitness
Not too physically strenuous
Swimming Cons
May cause skin allergies
Exhausting over long periods
Soccer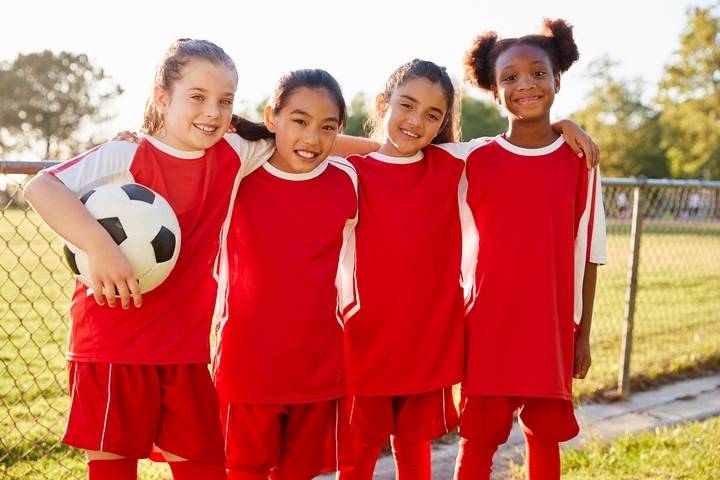 | | |
| --- | --- |
| Sport | Soccer |
| Description | Best sport for lower body strength |
| Female athlete | Christine Sinclair |
Soccer a popular sport amongst schoolgirls all over the world. Soccer is a game where two teams of 11 players kick and dribble a ball to place it in the opposite goal post. Like basketball, the required gear in this game is simple. Players only need a pair of athletic shoes and a soccer ball.
Soccer also involves a great deal of running and teamwork since each player has to run point with ten other teammates. Another high point of this game is that it helps girls build lower body strength.
Soccer Pros
Develop lower body strength

Improve fitness quickly

Build team spirit
Soccer Cons
High risk of injuries

Time-consuming sport
Gymnastics
| | |
| --- | --- |
| Sport | Gymnastics |
| Description | Best sport for improving posture |
| Female athlete | Simone Biles |
Gymnastics are the best sports for girls' self-esteem. Many young girls achieve ground-breaking feats every year at the Olympics, especially in the gymnastics category. Simone Biles rose to fame after she won multiple gold medals in gymnastics, shattering world records. Interestingly, girls as young as toddlers can participate in this sport.
One of the benefits of gymnastics is that it allows girls to build self-confidence, physical strength, and tenacity. Early participation also helps enhance the body's posture and improve bone health. A gymnast's most essential tool is their leotard, ranging from affordable to pricey depending on the quality.
Gymnastics Pros
Improve posture & bone health
Build self-esteem

Mental health benefits
Gymnastics Cons
Injuries are common

Require lots of practice
Volleyball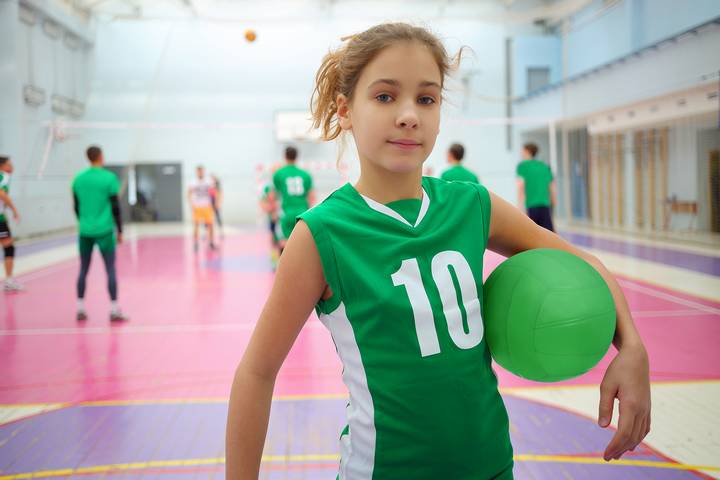 | | |
| --- | --- |
| Sport | Volleyball |
| Description | Best sport for teamwork |
| Female athlete | Jordan Larson |
Volleyball is another high-intensity game that works well for girls. It's a sport that requires a great amount of teamwork. The game involves six players in two teams playing to land the ball on the opposing side. For a good reason, it's one of the most played team sports by girls in America. It's enjoyable and also requires a great deal of physical activity.
Volleyball can be played as an outdoor or indoor game – on the beach or even on an open field. The essential gear to have is a kneepad.
Volleyball Pros
Emphasis on teamwork

Make new friends

Not too exhausting
Volleyball Cons
Risk of hand injuries

Dependent on team performance
Baseball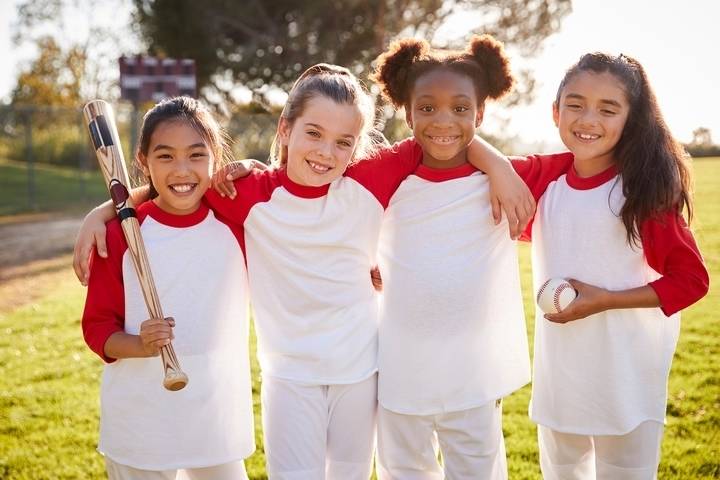 | | |
| --- | --- |
| Sport | Baseball |
| Description | Best sport for strength building |
| Female athlete | Toni Stone |
Baseball requires less physical activity than many sports on this list. This sport is a teambuilding effort which involves nine players on both teams batting a ball and running to touch bases. It is an ideal sport for girls to learn about teamwork.
While players don't have to run as fast as in basketball, baseball helps girls with strength building. Pitching also requires hand-eye coordination and upper body strength. The equipment includes a bat, a pair of gloves, a softball, and a helmet.
Baseball Pros
Train upper body strength
Improve hand-eye coordination

Learn about teamwork
Baseball Cons
Requires various heavy equipment

Lots of running involved
Tennis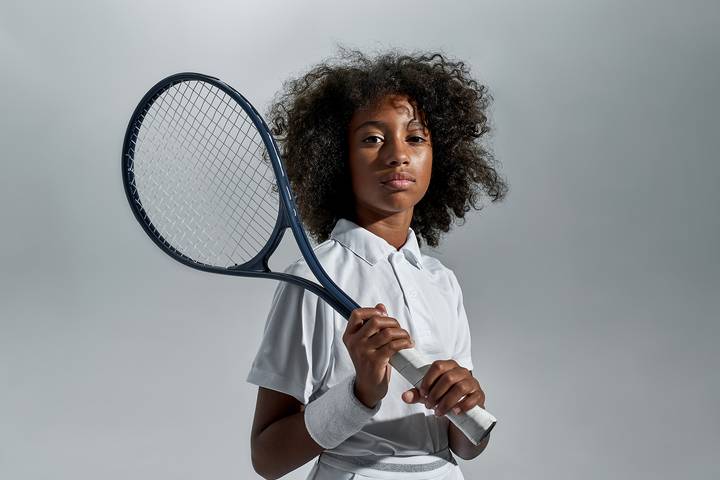 | | |
| --- | --- |
| Sport | Tennis |
| Description | Best sport for reaction speed |
| Female athlete | Serena Williams |
Tennis is one of the most popular sports for girls. A significant reason for its popularity is Serena Williams, a famous role model for many young girls today. Tennis is easily one of the best sports for girls who aspire to be the next iconic legend.
Tennis can be enjoyed as an individual or team sport. Although tennis involves minimal running, the sport can be intense since it is fast-paced. Required gear for tennis is easily accessible and includes light clothing, a tennis ball, and a racket.
Tennis Pros
Develop reaction speed

Improve hand-eye coordination

Fitness benefits
Tennis Cons
Expensive sport

Training is limited to courts
Field Hockey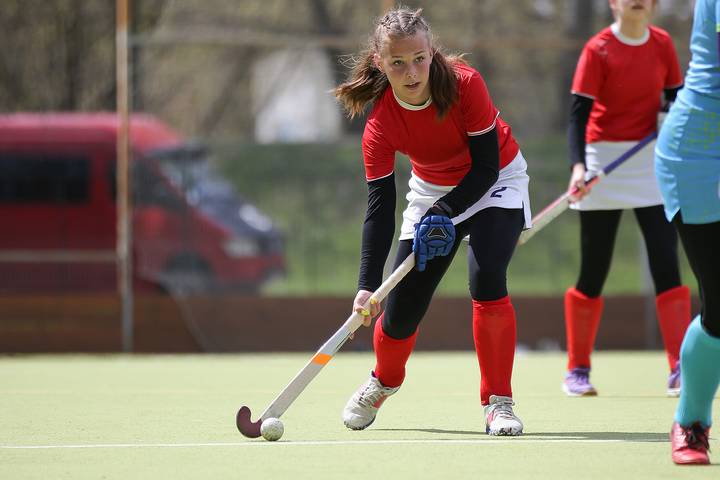 | | |
| --- | --- |
| Sport | Field hockey |
| Description | Best sport for muscle flexibility |
| Female athlete | Luciana Aymar |
Field hockey is one of the top women's sports. You may think hockey only works on ice, making it dangerous. Well, wait till you see kids play field hockey. Field hockey uses the same technique as ice hockey. The only difference is the location and the type of ball used.
Field hockey is a fast-paced game that positively impacts body functions like hand-eye coordination, calf strength and muscle flexibility. The essential field hockey gear includes the clothing and the hockey stick.
Field Hockey Pros
Improve muscle flexibility

Increase calf strength

Sharpen coordination
Field Hockey Cons
Lots of physical contact

Injuries can easily occur
Sports for Girls – Popular Questions
What is the best sport for a girl to play?
Basketball is one of the best sports for girls. This competitive sport teaches children many physical skills, including dexterity, upper body strength, and hand-eye coordination. Additionally, basketball carries cerebral benefits like determination, teamwork, and adaptability.
What is the hardest sport for a girl?
Field hockey is an incredibly aggressive sport with lots of physical contact. It is ideal for energetic girls who enjoy the thrill of competition. This sport can be physically demanding, but it builds strength and resilience in female athletes.
What is the easiest girl sport?
Swimming is one of the easier sports for girls. It is an independent activity that allows girls to move at their own comfortable pace. Once the athletes get used to navigating in the water, they will feel at ease swimming laps around the pool.
Are there any female only sports?
Softball, artistic swimming, and rhythmic gymnastics are the three female-only sports. They are exclusive to girls and there is no male equivalent of these sports.
What sport is good for self-confidence?
Gymnastics is an excellent sport to build self-esteem in girls. The sport requires practice, precision, and perfection. Completing a complex gymnastics routine can offer athletes a sense of pride and accomplishment.